Considering the Military? Here's What You Need to Know
     Joining the United States Military can create a great foundation for future personal growth. Today's military comprises six service branches, each with active-duty and part-time components. Location, mission, and service commitments vary greatly, though all are on the same rank-based pay scale.
  "My best advice related to the military is make sure you are joining for the right reason. For example, to serve your country, build leadership skills, get specialized vocational training, be part of an important team to serve a greater common good," said high school guidance counselor Mr. Little. 
    One of the first steps to take is the Armed Services Vocational Aptitude Battery (ASVAB) test. The ASVAB takes approximately three hours to complete and has questions about standard school subjects like math, English, writing, and science. Each branch of the military uses a custom combination of ASVAB results to produce scores related to different career fields.
Students in grades 11 and 12 are eligible to take the exam, and the district offers it throughout the year. Students who are interested in taking the exam should speak to their guidance counselors. There are ASVAB study guides available in the library in order to help prepare for the test and there are practice tests available online. 
The next step after taking the ASVAB is to find a local recruiter in the branch you are most interested in.You can schedule a meeting to discuss your intentions and what your main goals are. Recruiters are ready to answer any questions you have in mind. If they cannot answer your question immediately, they will find the information you need and get back to you. 
      Another option for service is the ROTC, for students who plan to attend college and are interested in the military.   The Reserve Officer Training Corps (ROTC) is a college program offered at more than 1,700 colleges and universities across the United States that prepares young adults to become officers in the U.S. Military. In exchange for a paid college education and a guaranteed post-college career, participants, or cadets, commit to serve in the Military after graduation. Each Service branch has its take on ROTC.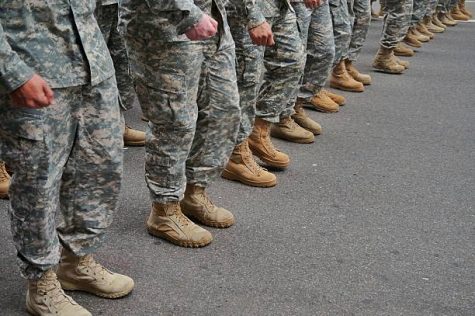 The ROTC program pays for the tuition and fees, you will also receive a monthly paycheck for food and housing. I am deciding to go into the Airforce. When I decide on the college I want to go to I will have two additional classes that are associated with the airforce, I will be required to wear my uniform once a week and for events. Once I graduate college I will be a lieutenant, and after graduation I will be required to enlist for at least four years.   
     A recruiter will discuss physical eligibility requirements with you beforehand. The physical is a regular medical exam, similar to what you would receive from a family doctor. Some recruiters may conduct a short physical training (PT) test with potential recruits as well. After you completed the physical eligibility requirements, a service enlistment counselor meets with you to find the right job specialty. There are hundreds of potential jobs in each branch of the military. 
"I would also recommend speaking with recruiters from several branches of service to make sure you are finding the right fit," said Mr. Little, a few different factors contribute to career selection.
     The service enlistment counselor will also go over the enlistment agreement. It is important to understand this fully before signing. When you sign this agreement, you are making a serious commitment to the Military. At this time, you will also be fingerprinted for your file, which is required for background checks and security clearances. Once your career path has been determined, you are ready to take the Oath of Enlistment. In this statement, you vow to defend the United States Constitution and obey the Uniform Code of Military Justice (UCMJ). Family members are invited to watch and take photos;  you will have about 10 minutes to say goodbye and then will be sent straight to the bus for boot camp.
     Basic Training,  often called boot camp, prepares recruits for all elements of service: physical, mental, and emotional. It gives service members the basic tools necessary to perform the roles that will be assigned to them for the duration of their tour. Each of the Services has its own training program, tailoring the curriculum to the specialized nature of its role in the Military. Boot camp can last from 8 weeks to 13 weeks with the Marine corps being the longest and most difficult branch. 
    One of the many reasons people join the military is for the retirement pay, which is based on the number of years you served and when the service member enlisted.  Active-duty service members receive medical and dental care at no charge. Also, spouses and dependent children of active-duty service members may enroll in military health care. Service members receive 30 days of paid vacation each year, compared to the standard 14 days that entry-level civilians typically receive. While there are some limitations to when vacation time can be used, service members generally receive their requested time off after giving adequate advance notice to their supervisor. Generally, military housing is provided for all service members, whether they're living on or off base. While there are some exceptions, with the abundance of housing options, service members can find housing to fit their needs. Service members work hard but get plenty of time to socialize. Many military bases are loaded with amenities like gyms, movie theaters, parks, and more. 
     TodaysMilitary.com is a great website to see what branch suits you the most. You can discover what it takes to join the military and learn how a career of service in the military can lead to a fulfilling life. "Finally, I would also recommend applying to college, while you are prepping to join the military, since many of our students who express interest in joining the military early in the year, ultimately change their minds, and miss out on the college application season," said Mr.Little.