GloRilla & Finese2tymes Concert Shooting
On March 5, a concert took place in Rochester, New York featuring GloRilla and Finese2tymes. As people were leaving, people panicked causing chaos.
There were approximately 5,000 people that were attending the concert and only eight officers were present at the time to keep everything under control. At the time of the incident the two artists that were hosting the event were not near the scene and did not see nor hear the rush of people struggling to get back inside. The Rochester police responded to an unfounded report of a gun going off around 11:05 p.m. outside the Main Street Armory Event Venue. The crowd of people were frightened and were heading back into the stadium to get to safety. This caused everyone to run and scream and as a result many were injured. The police report also reported three deaths. The victims included 33-year-old Rhondesia Belton, 35-year-old Brandy Miller, and 35-year-old Aisha Stephens.  
In response to the people affected by the stampede, GloRilla sent out a tweet. "I'm just now hearing about wtf happened 😢😢😢 praying everybody is ok 🙏🏼🙏🏼🙏🏼🙏🏼" "I am devastated & heartbroken over the tragic deaths that happened after Sunday's show. My fans mean the world to me 😢 praying for their families & for a speedy recovery of everyone affected 🙏🏽". The tweet was of GloRilla sending her regards to her fans and several comments were filled with people expressing their sympathy for the families and the victims. Some comments though blamed GloRilla and Finese2tymes for the deaths. There was one comment sharing a video of one of the victims that died at the concert.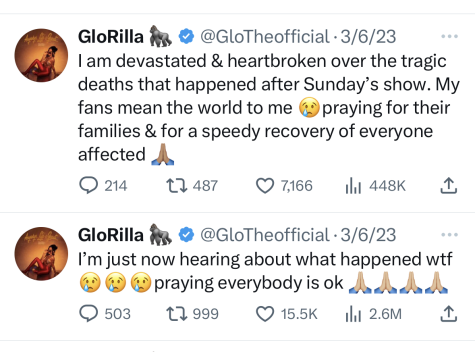 After the concert, there were rumors that Finese2tymes, the artist that performed alongside GloRilla, had caused the stampede. Finese2tymes had quickly addressed the rumors in a quick interview with a news outlet after he initially posted his reaction on his Instagram Story.  
He revealed that when the show had ended he was no longer in the area. "When it go on anywhere else, don't nobody get blamed." He then laughed, "When it go on at my show, I get blamed. As far as the situation in New York, condolences to the family and the people who was injured". Finese2tymes had noted that people quickly blamed him as there was another time where another shooting had happened during his previous show in Knoxville, Tennessee. 
 Violence occurring at concerts has become more frequent. Some examples could include the "Las Vegas Shooting" that happened in 2017. On October 1 a 64-year-old man opened fire on a crowd that were attending the Route 91 Harvest music festival on the Las Vegas Strip in Nevada. Then in the same year at an Ariana Grande concert on May 22, in Manchester England a small bomb went off. 22-year old Salman Abedi had strapped a bomb onto himself and at the end of the concert as people were leaving the bomb exploded. The suicide attack injured up to 100 people including children and young adults. 
Another example includes the deaths that happened at a Travis Scott concert. Back on November 5, 2021 Travis Scott the rapper was performing at Astroworld in Houston, Texas. There were at least 50,000 attending the concert that night, and it was packed with fans shouting and screaming, fences being overrun, and security being overwhelmed. There were cries and pleading to stop the show but it went ignored. In all, 10 concertgoers lost their lives, 25 were hospitalized, and 300 others were treated for injuries at the site.    
Many people online have been describing the Rochester, NY concert incident as a "death trap". The two artists have addressed and sent their condolences to families and their fans about what went down that night. Therefore the backlash wasn't as big and hadn't affected either GlorRilla or Finese2tymes reputation or career.
April 18, 8:50 a.m. ET: This post has been updated to reflect that reports of a gunshot were unfounded.