Hampton Bays High School Heads Outside for Pep Rally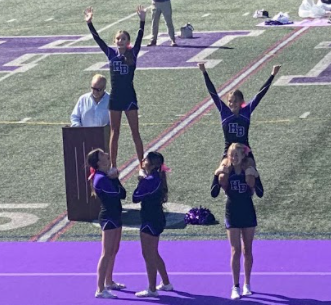 It's that time of year, when students have start to have fun experiences like plays, homecoming, bonfires, spirit week, and school games and of course the pep rally. The homecoming pep rally is the time when everyone gets together to cheer and support our athletes.    For years the Hampton Bays High School pep rallies have been inside the school building. But this year's pep rally was a little different; because of Covid restrictions, the pep rally was outside on the turf.
            Since the pep rally was outside the turf, the classes were divided in different places to sit. The freshmen and sophomores sat on the tracks and juniors and seniors sat on the bleachers on each side. After everyone was seated, Mr. Berglin called down senior Ella Stotzky to sing the national anthem. After she sang the national anthem, the school band joined in with their instruments. All sports teams were later called onto the turf and athletes were named one-by-one as the crowd cheered for them and their excellence playing their sport. 
Next the cheerleaders were called on the turf and performed a dance routine filled with school pride and HB signs. Then the gymnastics team was called and displayed some gymnastic tricks for the school.  It wrapped up when the football team was called to the turf and ran through the sign made for them to show pride for the Hampton Bays High School Bayman. After the pep rally the cheerleaders danced at the main exit while band members played some inspiring music so the students leaving the stadium would head back to the school with spirit and pride.