Mr. Fotopoulos to Retire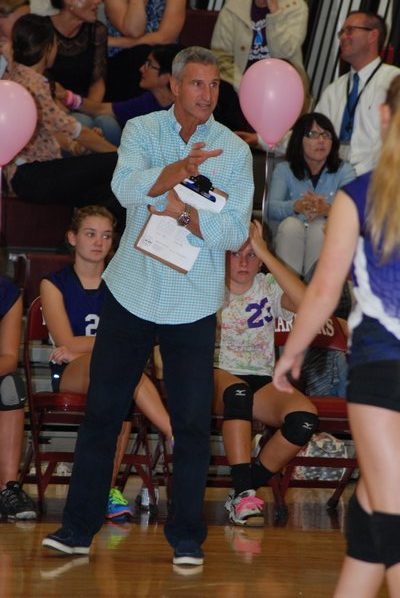 With the 2020-2021 school year coming to an end, we are preparing to say goodbye to the teachers who are retiring this year. One of those teachers is Mr. Fotopoulos. He started working here at Hampton Bays High School as a Math teacher in 1988. Since then, he has blossomed as a teacher and pursued many different avenues such as being a coach, class advisor, student council advisor, varsity club advisor, FBLA advisor, and teaching college courses. Specifically, Mr. Fotopoulos has been the teacher of math courses that range from Math 7 to Pre-Calculus and has also coached football, basketball, and Girls Varsity Volleyball.       
Throughout his years at Hampton Bays, he has accomplished many things. Mr. Fotopoulos has been so incredibly involved with the Hampton Bays Community and has made an impact on this High School that will not be forgotten or taken for granted. "One of the proudest moments of my career was when my Sequential II Math class (now called Geometry) all passed the NYS Regents exam" says Mr. Fotopoulos. 
Working in a high school has come with many challenges and lessons throughout the years. Mr. Fotopoulos expressed his struggles of having "to switch perspectives," with working in a high school. Not only was he working every day, but he also had the stress of being a parent and community member of Hampton Bays. However, he still managed to be an honored member of the faculty at Hampton Bays High School who will be deeply missed. Being a teacher, it is difficult to see students make their own choices and help them throughout arguably the most important years of their lives. This is one of the most important lessons Mr. Fotopoulos has learned from working here in Hampton Bays High School. "The biggest lesson I learned from working in HB is that most students eventually find their way. They all take different paths and have different timelines, but they all become accustomed to adult life. I see many students that struggled in school become very successful years later" says Mr. Fotopoulos.
Goodbyes are very bittersweet and they come with happiness for the future but also the sorrows of the ending of a chapter. "I will miss the students the most, all of the different characters and personalities. I will miss the class nights and the school trips. I will also miss my colleagues" states Mr. Fotopoulos. As a community, it can be said that we will deeply miss having Mr. Fotopoulos in our school every day. With these goodbyes come the things Mr. Fotopoulos gets to do with his retirement that he's looking forward to. Traveling is on his mind now that he has the time to do so. From the West Coast of the United States to Europe, Mr. Fotopoulos is excited to explore new areas and continue to coach Volleyball. 
Mr. Fotopoulos is passing his wisdom and lessons learned during his time in Hampton Bays to the new teachers by giving them some advice to help them navigate their path at Hampton Bays High School. "My advice for new, younger teachers is to focus on the positive aspects of teaching. They have chosen a meaningful career that is very rewarding as long as they learn to appreciate the nuances of the job."