Goodbye to Mrs. McAulay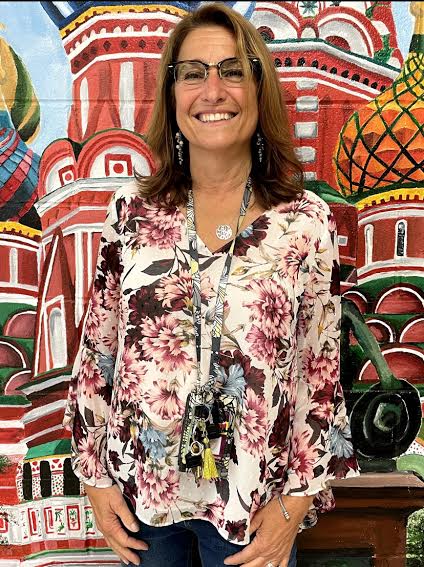 After 22 years of hard work at Hampton Bays High School, Mrs. McAulay has decided it's time to move on as she will be retiring at the end of this year. 
Mrs.McAulay has always been a History teacher, except for when she began working part-time and replaced the in-school suspension supervisor during her earlier days in HB. She became a full-time Global 9 and Global 10 teacher after two years of part-time teaching. She taught that for years until an AP European History teacher retired, and she took that class over. She also taught an AP World History Class, Government, and about 4 years ago, Mrs.McAulay started teaching Economics instead of Global 10. 
Mrs. McAulay also was in charge of Key Club. Key Club is a volunteer organization for students that she has run since 2010. It has helped out with many fun events for the community, including Relay for Life which helped raise funds for the American Cancer Society. There has also been a free program in the past years where the students in Key Club rake leaves for the elderly members of our community. Though it may seem like a lot of work at times, the fun always makes up for it. One of the things Mrs. McAulay has loved most about working with the Key Club is that she gets to know the students on a personal level. 
Teaching at Hampton Bays taught Mrs. McAulay several lessons. One of these many lessons is, "You always have to do what you enjoy in life if you want to be happy." She has been truly happy here her entire career. Though she adored teaching, it came with its challenges. "Sometimes, when I couldn't reach a kid, it would weigh on a teacher's mind, and sometimes you can't sleep because you're thinking, 'What can I do to reach this kid?' Sometimes you end up reaching them and it's wonderful. Sometimes you never do." Some of the kids she had to end up coming down the hardest on ended up being some of her greatest success stories. 
One of the proudest moments from her time in Hampton Bays was last year when she got her AP World History results and every single one of her students received college credit for the exam. That's not the only thing, though. "Some of the other things that happen are personal notes I get sometimes, that are sweet and touching, and I don't realize that I'm impacting people in a way that I do," Mrs. McAulay said. 
Mrs. McAulay has some advice to pass down to anyone planning on becoming a teacher: "You are not here to be a student's friend. You are here to be a mentor, a role model, and you should always attempt to behave in a way that models how you want your students' attitude, behavior, and efforts to be." In her eyes, what makes teaching the greatest career is getting to work with the future generations of the world. The students are what she will miss most.
She also believes teachers should always love what they do, and try to find what they're passionate about. Focus on those things in your teaching. "My best lessons are always the lessons about things that I'm most passionate about," McAulay said. She thinks it shows you care, and when students know you care, they will do better. One more thing she suggests is that teachers should decorate their classrooms nicely. Her room is something that she will miss. She and the students who have painted murals on her walls have put a lot of effort into it in the past years to make it look as amazing as it does. 
One of Mrs. McAulay's plans for retirement is to publish a children's book. Two of her students have volunteered to help with illustrations. Some of her other plans include planting a pollinator garden, taking a real estate course, becoming a real estate agent, volunteering at her son's school, possibly volunteering at the Pre-K here, and traveling. "I can't wait to travel. You know, everybody has a bucket list, but there's some places I want to go back to and some places I've never been," she said. She would love to visit Greece, Italy, Croatia, and the south of France. 
Before she takes on any of these big adventures, Mrs. McAulay's first move after retirement is to stay at her house in Montauk for two weeks because her house is being painted in preparation for her son's engagement party.