Harry Styles' "Fine Line" Album Review
 Going from being a member of what once was the most popular boy band in the world, to now being a determined solo artist, Harry Styles is continuing his love for music and performing individually. Even if you do not listen to his music, you probably remember Styles as the face of One Direction. Consisting of 5 male members and selling out stadium tours up until the band's split in 2015, their success was comparable to The Beatles, along with stealing the hearts of millions of girls around the world. The band was notorious for their pop-rock songs. Styles has now pursued a solo career, making music with a similar feel, but with more of an old-timey twist, which is very present in his newest sophomore album, Fine Line.
Fine Line is Harry Styles' second studio album, released on December 13, 2019 under record labels Columbia and Erskine Records. This album has been most popularly described as pop rock with elements of psychedelic rock, soul, and indie pop. Styles began his promotion for this album in October 2019 with the release of the lead single from the album,"Lights Up". Surprising fans with a new indie pop sound, the song debuted at number 17 on the billboard hot 100. On December 6, Styles released the song and music video for the album's second single, "Adore You". The song debuted at number six on the Billboard Hot 100.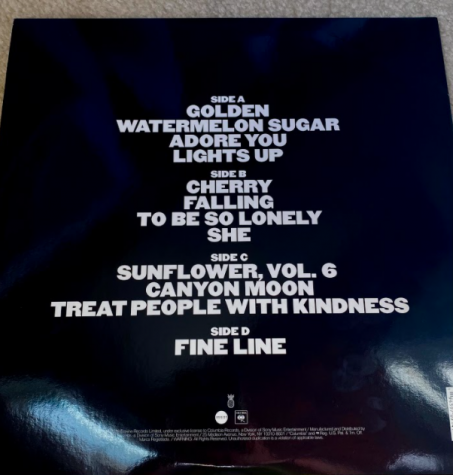 Styles' musical inspirations are very apparent within these songs. Artists including Paul McCartney, Fleetwood Mac, and David Bowie heavily inspired the flow and sound of Fine Line. The album as a whole was essentially inspired by a breakup with ex-girlfriend Camille Rowe, but it is not your typical "breakup album." The songs have many meanings that anyone could connect to. He takes his listeners on a melancholic journey that addresses the highs and lows of life and falling in love. 
The album starts off with a buoyant entrance, with the song "Golden." The song is bright and exciting, and represents the feeling of falling in love. It makes you want to go for a long drive as the sun sets. "It's like driving down the coast, that is what the song is for" said Styles in an interview with Zane Lowe. Next are two of the most upbeat songs on the album, "Watermelon Sugar", and "Adore You". Watermelon Sugar brings you back to the simplicity of a summer evening. Adore You has a catchy pop beat that will easily get stuck in your head. The catchiness of the song masks over the lyrics, which reveal that Styles is desperate for commitment and he is longing for this person. As the chorus sings, "I'd walk through fire for you, just let me adore you."
Transitioning into a new perspective of this love story, Styles expresses a feeling of freedom and being on his own on the next track, "Lights Up". He is ultimately lost within a party atmosphere and is drowning his sorrows in the "lights". Next is "Cherry" which is ultimately the typical breakup song on the record. This song reflects on Harry's past relationship, as he sings about his feelings of jealousy and how he simply misses her accent, accompanied by a delicate guitar. The end of the song features a voicemail from said ex, a very personal addition to the song which reveals how authentic Harry is wanting to be with his listeners. 
Next is "Falling" which shows a new side of Harry that we haven't seen yet, he is revealing the fact that he has "fallen" into a dark place since the breakup. The piano on this track is simple, yet so full of emotion which really draws you into the lyrics. The song was written in 20 minutes, and it is the most personal song on the record. The soft piano slowly fades into an acoustic guitar on the next track, "To Be So Lonely". This song highlights the talent of guitarist Mitch Rowland, a member of Harry's backing band, in an acoustic setting. Styles is expressing his feelings of jealousy whilst setting the tone of being carefree in the lyrics.
The next track on the record is my personal favorite. Harry is expressing his feelings of longing for a woman who exists only in his head on "She". The guitar really highlights this song, it is slow and sensual, and gives the song a dreamy feel, which is very fitting as the chorus sings, "She lives in daydreams with me". The outro of the song features an amazing electric guitar solo by Mitch Rowland that is almost two minutes long, and really showcases Harry's inspiration from Pink Floyd. 
"Sunflower, Vol. 6" is a very lighthearted and funky song that seems to steer you away from the gloom of the songs before it. It is quite literally a ray of sunshine during a thunderstorm. Next is "Canyon Moon" which is another "feel good" song, featuring upbeat guitar tunes and lyrics that are reminiscent of memories with a past lover and reveal that Harry feels he has been "gone too long" from this person. The flow of this song reminds me of The Beatles, and it is also Stevie Nicks' favorite song on the album! 
"Treat People With Kindness" is Harry's iconic slogan, and it is now also the second to last song on this record. The song is upbeat and full of positivity as a gospel choir sings about loving and accepting yourself, and most importantly, treating people with kindness. The last track is the longest and the most authentic. "Fine Line" brings us back to the narrative of Harry's relationship with his ex. Throughout the song, he is coming to terms with his broken heart and accepting the fact that there will be a "fine line" between him and this person.
Overall, this album is one of my favorites because you can listen to it no matter how you are feeling. This record really shows how much Harry Styles has grown not only as a songwriter, but as an artist, since his solo debut.