"Clouds" Movie Review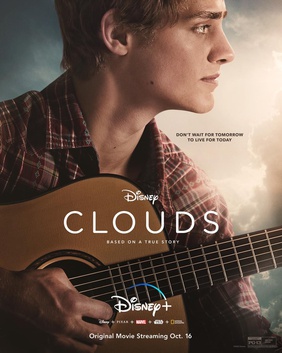 Inspired by the true story of Zach Sobiech, played by Fin Argus, the movie "Clouds" provides a look into a teenager's life experiencing rare bone cancer, his first love, and finding his voice through music. 
The film, directed by Justin Baldoni, won the Truly Moving Picture Award in 2020 and was nominated for the Writers Guild of America Award. This heartwarming and tear-jerking story inspires the viewers to appreciate the life they are given and to cherish the hardships, along with the memorable moments that life throws at them.  
The movie is set in Minnesota and opens with Zach's acoustic performance of 'Sexy and I Know It' at his high school, where he is full of happiness and laughter. We are introduced to his best friend Sammy Brown, played by Sabrina Carpenter. Throughout the film, their friendship is highlighted as the center of their lives and especially their music since both are songwriters. At the beginning of the film, Zach and his family are informed that his cancer is terminal and that he will not live through the next year. This impacts his relationship with Amy Adamle, played by Madison Iseman. Their love story is beautiful; it shows that once you love someone nothing else matters and you must hold them for as long as you can. Zach faces moments where he doesn't see the point in living anymore, but when he begins to write his song for Amy, his mindset shifts and he decides to enjoy every second that he has left. Zach and Sammy, known as a Firm Handshake, make a music video that goes viral and changes their lives forever. 
The movie causes you to feel many emotions at once and by the end of it, you feel as if you are part of Zach's story. Unfortunately, I believe the relationship Zach had with his sisters should have been explored more and depicted in order to truly understand the struggles his family went through due to his sickness. The plot was mainly focused on Zack and what he was going through himself. Zach's younger and older sister had very few lines, their characters were not developed enough to show their personalities. 
The film is titled after the song Zach and Sammy composed together.  I believe it expresses the central message of the film, which is that you must start to live your life and not wait until you are floating above the clouds to do so. Zach had every right to view life negatively but he decided not to, instead his song Clouds shows that he viewed death not as the end, but as a chance to live out his purpose. Throughout the movie the question " Tell me, what is it you plan to do with your one wild and precious life?"  is constantly in Zach's mind. Although for some it was just a prompt for a college essay, to Zach it was the thing he held onto until the end. 
He decided to make others happy and his inspirational story remains in my heart. I believe that we must all cherish the lives we've been given and begin to do the things that make us happy. We shouldn't wait until the months start to countdown. Everyday is precious and our mindsets are what make it worth living. We should live every day like it is our last, to the fullest. I do recommend others to watch this movie, which is available for streaming on Disney Plus; it is great for teenagers and families. It may even inspire you to begin looking at your life in a positive way.