Gen-Zoom: Being a Student During a Global Pandemic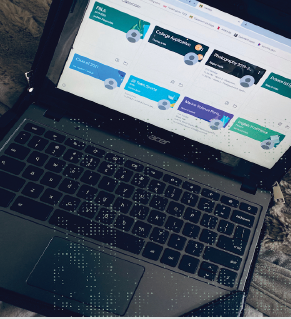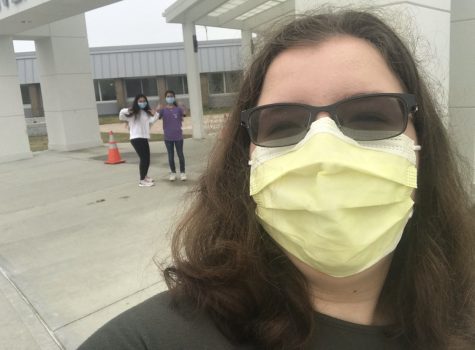 May 2020- My alarm rings at 8am… and again at 9am. This would be third period if I were in school. This is considered "early" for me now. Many students are waking up in the late afternoon and going to sleep in the early hours of the morning. The teenage sleep cycle has finally won over the need to wake up at 6am and be at school for driver's ed at 6:45 am or for class at 7:30.
We are living in the YA books we grew up reading. We wake up and attend school through digital screens. We have to wear masks to go outside and a deadly virus is spreading. There is no vaccine yet, and the most we can do is to stay at home. In-person school is cancelled for the rest of the year. The Class of 2020 will be losing their scheduled graduation, prom, and the second semester of senior year. Countless people are losing their loved ones. This is something I could have never anticipated a year ago.
If you aren't in school, you might be thinking, "How are students learning?" Google Classroom holds most of our assignments and a constant stream of announcements. I have 16 different google classrooms (for both classes, school announcements, and extracurriculars) and sometimes it can get overwhelming. Some classes hold weekly virtual meetings over Zoom or Google meets, online video-chatting platforms that allow our class to interact. In small classes like science research, it's manageable and quite convenient. In band or chorus, it is unrealistic to get over a hundred students to listen and talk one at a time, so our music instructors break us off into sectionals based on the instrument or vocal part. We get a lot of one-on-one time. The upcoming AP exam has been formatted to crunch the year's worth of college-level education into a 45-minute written exam. While most colleges have given the option for Pass/Fail, high schools are still held to the traditional grading scale.
For some, school becomes overwhelming. You don't leave after 2:09pm. School leaks into your phone notifications and your evenings, because now all of your work is homework. This goes for teachers too; Remind messages and emails can come in at any hour of the day. For others, this is a new flexibility; schoolwork can be self-paced and work around a personal schedule. Our teachers have been doing their best to call us and video chat us to help.
I think that quarantine has created an environment for self-reflection. It has unveiled problems in society that need to be addressed. Additionally, I think that students are becoming more aware of the local government and its decisions. I find that within my peers, more students are looking at the news. March 2020 was the first March without a school shooting since 2002. It shouldn't take schools being closed to make schools safe from gun violence our healthcare system needs to be improved so that all Americans can afford to go to the hospital. Telemedicine has developed out of need, but might be a method of diagnosing that will last well beyond COVID-19. Education reform might also be something that comes out of quarantine. Students are being overloaded with a lot of busy work. This is the time to remember that the primary focus of education is supposed to be learning. It might also cause teachers to realize that computers and technology can be utilized more in everyday learning. Perhaps students who weren't previously homeschooled might feel encouraged to take extra online classes after being equipped with the experience. Additionally, teachers are being challenged to adapt learning to emerging technology; perhaps this will lead to more technologically-inclusive lessons when we return to school.
Ironically, unity through isolation is vital during this time. By staying apart, we are protecting each other. Our district hosted a virtual spirit week last week. Baymen Bedtime stories on Facebook Live help us to feel a little closer to the teachers we can no longer see. This week, we had a district wide Kahoot. As I am writing this, week 8 of quarantine is right around the corner. My science research class will be having our annual symposium over Facebook Live on May 7th. It is astonishing how the persistence of our small community continues to overcome a global virus.